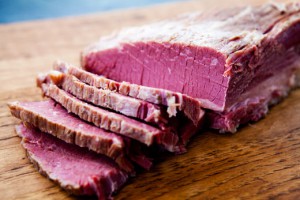 Homemade Corned Beef or Venison
I like this more than the store bought corned beef
Ingredients
2 to 3

pound

brisket

2

quarts

water

1/2

C

canning and pickling salt

1/2

C

tenderizing salt

Morton's Tenderquick

3

T

sugar

2

T

mixed pickling spice

2

bay leaves

8

whole black peppercorns

4

cloves

garlic mixed
Instructions
Combine all ingredients except meat in a pot and heat just to a boil. Remove from heat and allow to cool back down to room temp.

Place meat in a non-reactive container (glass, ceramic or ziplocs) and pour in cooled brine solution. Refrigerate for 4 to 6 days (thinner cuts for 4, thicker for 6). Stir up the meat at least once a day.

When ready to cook, dump out he mixture and rinse off the meat. Place meat and fresh water in a pot and heat to a boil. Reduce heat and allow to simmer approximately 3 1/2 to 4 1/2 hours until meat falls apart.

Optional: For a saltier, stronger result, save a couple cups of the brine solution and add to the fresh water when cooking.

Optional: Instead of cooking on the stove top, cook in a crock-pot on low for approximately 8-10 hours.